Since last June, it has been virtually guaranteed that this year's Kentucky Derby would be something of a letdown, in that the winner could not help but fail to stack up against American Pharoah and his ultimately historic effort in the Run For the Roses on his way to becoming racing's twelfth Triple Crown winner.  And although American Pharoah was the reigning Eclipse Champion and the Derby favorite off of two impressive prep-race performances, the field included several other colts who appeared to be top class and had relatively few knocks against them based on past performances (i.e., AP's then-undefeated, two-time Grade 1-winning stablemate Dortmund; Blue Grass/Breeders' Futurity winner Carpe Diem, whose only loss was a 3rd in the Breeders' Cup; Firing Line, who was coming off of a double-digit stakes victory after running Dortmund to photo finishes twice previously; Wood winner Frosted; and Florida Derby hero Materiality).
So even if American Pharoah had not gone on to do what he did, last year's crop of sophomores looked a solid-enough bunch with several potential superstars (and the field's post-Derby exploits proved that appearance to be correct, even if some of those named in the preceding paragraph did nothing to contribute to the crop's achievements thereafter).
As for 2016, even though the bar has been set high for them, this year's group of 3-year-olds has given every indication that they are a mediocre bunch at best.
The irony of this statement is that there are some surface similarities between members of the '16 and '15 crops:
Nyquist, the reigning 2-year-old champion, is unbeaten (American Pharoah already had lost a race heading into the Derby last year) but has some questions about his stamina because of his speed and his Storm Cat-line broodmare sire (just like AP).
Mohaymen, a son of Tapit running for Shadwell Farm and Kiaran McLaughlin, like Frosted last year, came out of the Remsen Stakes in his juvenile finale with big expectations, then had an up-and-down Florida campaign.
Brody's Cause, a son of Giant's Causeway, took the Breeders' Futurity last fall at Keeneland, was third in the Breeders' Cup Juvenile, and this spring took the Blue Grass Stakes after returning in the Tampa Bay Derby, just like Carpe Diem last year.
Mor Spirit is trained by Bob Baffert, who conditioned Dortmund, has a good 2-year-old effort at Churchill Downs, and comes out of the California prep series having never finished worse than 2nd in his career.
Outwork is a lightly-raced Todd Pletcher trainee who won his final Derby prep (a Grade 1) in just his fourth career start, whereas Materiality did the same in his third career start.
Having said that, the devil is in the details, of course.
Although Nyquist is the unbeaten, Eclipse Champion 2-year-old, he has not dominated his rivals in any of his races like American Pharoah did.  Moreover, his lifetime best Beyer Speed Figure of 101 (earned at 7 furlongs) is below those earned by AP heading into the Derby last year.  In fact, whereas AP got a 105 for his Arkansas Derby win, Nyquist only got a 94 for his last-out victory in the Florida Derby.
Mohaymen was unbeaten as a 2-year-old, and he won the Remsen impressively whereas Frosted was the runner-up the previous year.  And although Mohaymen was victorious in his first two Florida runs this year (Frosted never won in Florida) he enters the Derby off of a tame and disappointing 4th in the Florida Derby (whereas Frosted's final Derby prep was a victory in New York's Wood Memorial).
Despite all their similarities, the two biggest differences between Brody's Cause and Carpe Diem are that, (1) while Carpe Diem won the Tampa Bay Derby before his Blue Grass victory, Brody's Cause was an excuse-free 7th at Tampa, and (2) Carpe Diem had tactical speed but Brody's Cause is a stone-closer in a field that appears potentially paceless (more on that later).
Although Mor Spirit has never finished worse than 2nd, he has finished 2nd more often (four times) than he's won (three times).  In fact, his good race at Churchill as a juvenile was a runner-up finish whereas Dortmund won his race at Churchill (and all his others, as well).
Outwork and Materiality are the last two of the seemingly yearly string of Todd Pletcher trainees who run huge in Derby preps but lack the seasoning many think is necessary to win the Derby.  And in Outwork's case, his victory in the Grade 1 Wood Memorial came with a relatively low Beyer number of 93 (and very slow final time), whereas Materiality got a huge 110 for his Grade 1 Florida Derby win last year.
Even if this year's Derby field seems destined to pale in comparison to last year's (and potentially the last 11 years, given the numbers compiled by Jon White here), somebody has to actually win the race.
A tenet of Kentucky Derby handicapping is that the race pretty much always features a strong pace.  Not since War Emblem in 2002 has a Derby winner gone wire-to-wire, and there are only two other front-running winners of the race in the last 30 years (Go For Gin in 1994 and Winning Colors in 1988).
But early pace is another area in which this year's field seems to have the potential to stray from the norm.
The only confirmed front-runner in this year's likely Derby field is Danzing Candy.  The son of Twirling Candy went wire-to-wire to win the Grade 2 San Felipe two starts back, before setting a suicidal pace last time out in a sloppy renewal of the Grade 1 Santa Anita Derby, eventually tiring to 4th.  Although the pace in the SA Derby was too fast for Danzing Candy to maintain (he went :22, :45 and 1, 1:10), it's not like he crawled early in the San Felipe (:22 and 4, :46, 1:11), and he came home his final 1/8th in the latter race in :6 and 3, which is solid enough off of those fractions; it's not like he was staggering to the wire.
Of course, the San Felipe was only a mile-and-a-sixteenth whereas the Kentucky Derby is a mile-and-a-quarter, and fractions that quick at Churchill will still be too fast for Danzing Candy to have any hope of seeing out the full distance in front.
In his favor, though, is that of the rest of the likely runners, the only ones with any real early speed are Nyquist and Outwork.  Based on his recent workouts, I wouldn't be surprised to see Mohaymen sitting pretty close early, and Mor Spirit's last two breezes have seemed designed to put a bit more early lick into him.  Destin is another I'd anticipate in the first stalking flight.
But the only true speed horses appear to be Danzing Candy, Nyquist and Outwork.  And neither of those latter two (both sons of Uncle Mo, incidentally) is a "need-the-lead" type by any means.  Nor are the chances of either enhanced by trying to engage Danzing Candy too early, since both (like all the horses in the Derby every year) have questions about their own ability to get the full Derby distance.
Given this projected pace scenario, my Derby pick is Outwork.
There are two knocks on Outwork:  (1) the Derby will be just his fifth career start, and (2) his Wood Memorial victory was earned in slow time (1:52 and 4/5) by just a head over an 80-1 maiden.
Outwork has only run four times, but I believe that his last two races will have imbued him with sufficient seasoning – both in terms of fitness and experience – to overcome his limited number of starts.
In the Grade 2 Tampa Bay Derby, only his second race after a ten-month layoff (with his comeback having been at just 6 furlongs), Outwork set a reasonable early pace, quickened under pressure into the far turn, dueled with his more experienced stablemate Destin through the lane, and only succumbed in the final yards – Destin having to set a new stakes record to beat him.  (You can read in depth profiles of many of the Derby runners, with imbedded videos of their most recent prep races, including the Tampa Bay Derby on Michael Cox's site here).
Outwork earned a 98 Beyer figure for that performance – which again, was only his third race, his first beyond six furlongs, and only his second in 11 months.  His third quarter-mile split was faster than his second, which was faster than his first.
Outwork's next start came in the Grade 1 Wood Memorial, which was run over a muddy (sealed) surface at Aqueduct.  Unlike the Tampa Bay Derby, in which he was drawn toward the inside, Outwork was stuck with the widest post position for the Wood, and thus had to be hustled from the gate to try and secure a decent early position.  He nevertheless got hung three-wide while applying pressure to the leader, Matt King Coal, through fractions of :22 and 4, :45 and 4, then 1:12 and 1.
Taking command around the final turn, still to the outside, Outwork turned back Shagaf and Adventist, put away Matt King Coal, and then held off Trojan Nation who had saved all the ground while rallying up the rail.  Even though he was tiring, Outwork had enough heart to dig in and get his nose down in front.  And the 2nd- and 3rd-place finishers were unable to run him down, despite a fast-early/slow-late pace scenario that should have worked in their favor.
Although Outwork's final time was the slowest ever for the Wood, obviously the track condition played a part in that, and Outwork's 93 Beyer was not terrible in comparison to many of the other final prep races (again, check out Jon White's analysis of those numbers here).  Furthermore, the Beyer figure doesn't take Outwork's wide Wood trip into consideration.  On the Thoro-Graph sheets, which do factor in ground loss, Outwork earned a 1-1/2 for the Wood, which is competitive with the numbers earned by other top Derby contenders.
Given that the Wood was only his fourth career start, Outwork looks to have significant upside left to him – and he won't have to improve much to be able to win the Derby.  And with the relative lack of early speed in the projected field, even the post position draw shouldn't meaningfully affect Outwork's chances.
There is some debate as to whether or not Outwork's sire Uncle Mo will impart sufficient stamina into his offspring to qualify as a "classic" sire.  I am firmly of the belief that Uncle Mo's offspring will run as far as American horses are asked to run in this day and age.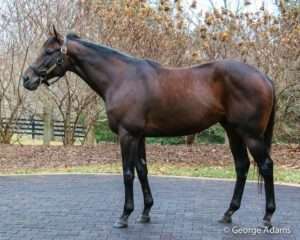 Although Uncle Mo himself never won beyond a mile-and-a-sixteenth, he only attempted to do so two times, and emerged from both the nine-furlong Wood Memorial and the ten-furlong Breeders' Cup Classic with physical ailments, suggesting they were not true indicators of his ability.  Furthermore, although Uncle Mo's sire, Indian Charlie, has gotten numerous speedy offspring, he himself won the nine-furlong Santa Anita Derby in only his fourth career start, and finished third in the Kentucky Derby in his fifth.  He also has sired top class two-turn winners like Fleet Indian, Pampered Princess, Liaison, My Pal Charlie, Two Trail Sioux, Anthony's Cross, etc.  His own sire, In Excess, was a Grade 1 winner of the historic Suburban Handicap, while his broodmare sire (Leo Castelli) and the sire of his second dam (Diplomat Way) both had no problems with nine furlongs.
Uncle Mo's own broodmare sire (Arch) is from the quite classically-oriented sire-line of Kris S. and Roberto, and the sire of Uncle Mo's second dam (Dixieland Band) is also a stout-enough influence.
In North America today, very few sires have produced top-class winners at ten furlongs and beyond solely because there are almost no opportunities for them to do so.  The racing program has been constantly tweaked in such a way as to phase out races of ten and twelve furlongs or farther, especially on dirt.  But given the distance proclivities of his ancestors laid out above, I believe Uncle Mo will be just as capable as any other American stallion of getting horses that can successfully navigate the distances of our classic races.
And in the case of Outwork, he gets further stamina from his bottom line, as his broodmare sire, Empire Maker, was himself a Belmont Stakes winner and is the grandsire of American Pharoah.
I expect Outwork to go off in the range of 10- or 15-1 on Saturday, and think that is excellent value.
I believe that Danzing Candy, Nyquist and Mohaymen are all also classy enough to take advantage of their tactical pace advantage in this particular Derby, and won't be shocked if any of them come home the winner.  Of the others, Mor Spirit is the horse I think has the best chance of sneaking into the exacta.
Exaggerator seems likely to be the second or third choice in the Derby, and he has been a nice horse from the start.  His Santa Anita Derby victory was incredibly impressive, but I worry that he may have peaked too soon and it's hard not to attribute some of his margin of victory that day to the sloppy track condition.  Brody's Cause will be closing late, as will the top three from the Arkansas Derby (Creator, Suddenbreakingnews and Whitmore).  All are definitely horses to use underneath in trifectas and superfectas, but I just don't see enough pace to set them up for victory in the Derby.  The same applies to Louisiana Derby winner Gun Runner (who might also just be too slow, even if he's clearly a nice horse).  Destin beat my top choice, Outwork, in the Tampa Bay Derby – but that was Destin's last race, meaning he comes into the Derby off of an eight-week layoff.  I think that's going to be too much for him to overcome.  If Mo Tom finally gets a good trip, he's another that could get up into the bottom of the exotics, but it's hard to count on a clean trip in a field of twenty horses.  And since he ran Outwork to just a head last time out, Trojan Nation is a horse I'll use in the bottom of my superfectas at what I expect will be a huge price.
Best of luck, whoever your Derby horse may be, and check back in two weeks' time when we will have a Preakness analysis and plenty of photos of the contenders for that race.