The 2016 class of incoming stallions in Kentucky is a more promising group than there has been in recent memory, with six beginning their stud careers for fees greater than $20,000, namely American Pharoah ($200,000), Honor Code ($40,000), Tonalist ($30,000), Carpe Diem ($25,000), Constitution ($25,000) and Liam's Map ($25,000).
To have this many stallions starting out at such high fees speaks to the group's fashionable pedigrees and class on the track, as well as a rebounding bloodstock market at the sales – although some of these fees seem at least slightly aggressive given that the market has not strengthened in the last year (see Glenye Cain Oakford's Keeneland November wrap-up at Blood-Horse here.).
Still, the 2016 class rates a stronger and deeper bunch than those of the last few years – the 2015 crop of first year stallions was led by Will Take Charge ($30,000), Noble Mission ($25,000) and Verrazano ($22,500), the only three to begin above $20,000. In 2014, there were Declaration of War ($40,000, but after standing one year in Ireland), Animal Kingdom ($35,000, after standing in the Southern Hemisphere first), Orb ($25,000), Point of Entry ($25,000) and Paynter ($25,000), while the 2013 class featured Union Rags ($35,000), Bodemeister ($30,000) and To Honor And Serve ($30,000). In 2012, Uncle Mo ($35,000) and Tizway ($25,000) were the only two that started higher than $20,000.
Beyond the top six, there are numerous other intriguing newcomers set to cover their first books this spring as well. Below are some observations about, and photographs of, many of these new stallion prospects. Any comments or questions are always welcome to [email protected].
This Part 1 will encompass all of the first-year stallions at the three farms standing the six highest-priced newcomers. Part 2 will feature our thoughts on incoming stallions at other venues.
Lane's End stands three of the high-priced new recruits, as well as a fourth newcomer:
Honor Code (2011 A.P. Indy – Serena's Cat, by Storm Cat; $40,000)
From the last crop of A.P. Indy, arguably the most dominant influence in the U.S. stallion ranks in the last decade, Honor Code lived up to lofty expectations on the racetrack for trainer Shug McGaughey (read more from Lenny Shulman on those expectations here).
A scintillating debut winner at Saratoga at 2, Honor Code was subsequently 2nd in the Champagne-G1 before out-dueling Cairo Prince (with Wicked Strong 3rd) in the Remsen-G2.  The lone disappointment of his career was likely that injury forced him to miss the classics at 3, but he returned late that year to win a 6-1/2 furlong allowance from out of the clouds.
As a 4-year-old, Honor Code was recently named the Eclipse Champion Older Dirt Male off of victories in the Whitney-G1 (when he ran down Liam's Map in the final jump), the Met Mile-G1 (a smashing victory by almost 4 over the likes of Tonalist, Private Zone, Wicked Strong and Bayern), and the Gulfstream Park Handicap-G2 (over Private Zone and Wicked Strong). He was also 3rd in the Breeders' Cup Classic-G1 when he was the only horse to make up any ground behind American Pharoah.
Honor Code was notable for his extreme off-the-pace style, which he used effectively sprinting, at a mile, and going the 9 furlongs of the Whitney. Despite this style, he was a top-class juvenile, winning first time out around one turn and finishing the year ranked 4th on the Experimental Free Handicap (just two pounds below New Year's Day and a pound below Shared Belief and Havana).
In addition to being the son of an incredibly prolific sire-of-sires and having earned an Eclipse Championship on the track, Honor Code also has a fantastic female family. His third dam is Hall of Famer Serena's Song (the dam of useful sire Harlington among 6 stakes-winning offspring), and his first two dams are both stakes winners and Graded stakes producers.
Although A.P. Indy's best sire sons are all out of Mr. Prospector-line mares (Pulpit, Mineshaft, Flatter, Malibu Moon and Congrats are all out of mares by Mr. P himself, while Bernardini is out of a mare by Mr. P's grandson Quiet American) and Honor Code's dam is a Storm Cat mare, his second dam is a daughter of Mr. Prospector, so that bodes well for him. It also means that Mr. Prospector will show up in the 4th generation of his offspring, rather than the 3rd generation, with Northern Dancer back in the 5th generation.
This frees Honor Code up to be bred to mares from just about any sire-line (Honor Code himself is inbred 3×4 to Secretariat and 5x4x5 to Bold Ruler, neither of which should present many restrictions among potential mates). Even breeding Honor Code to mares by Tapit would only create 2×4 to A.P. Indy – a perfectly reasonable degree of inbreeding for most breeders (interestingly, Tapit as a sire has already had plenty of success with inbreeding to A.P. Indy's sire Seattle Slew [see Anne Peters article here], so inbreeding via Tapit on the bottom of pedigrees could prove successful as well).
The well-balanced, powerfully-built, extremely flashy Honor Code retires to the same farm where his illustrious sire spent his entire stud career, and he figures to have every chance of becoming the final successful sire son of A.P. Indy.
Tonalist (2011 Tapit – Settling Mist, by Pleasant Colony; $30,000)
A classic winner and Grade 1-winning miler, Tonalist ranks as the most accomplished runner so far produced by North America's current leading sire by a large margin, Tapit.
Tonalist was 4th in his only start as a juvenile, then broke his maiden by 4 in January of his sophomore season at Gulfstream. He came back to be 2nd behind next-out Grade 1 winner Constitution in February before putting together back-to-back victories in the Peter Pan-G2 and the Belmont-G1 (spoiling California Chrome's bid for a Triple Crown in the latter, at the same time becoming trainer Christophe Clement's first Grade 1 winner on dirt). Tonalist added a Grade 1 win over older horses that fall in the historic Jockey Club Gold Cup at Belmont, having finished 2nd in the Jim Dandy-G2 and 3rd in the Travers-G1 in the interim.
Returning at 4, Tonalist shortened up successfully to a mile in the Westchester-G3, then couldn't contain Honor Code in the Met Mile-G1. He was 2nd in the Suburban-G2, 3rd in the Whitney-G1, added a second victory in the JCGC, then failed to file in the Breeders' Cup Classic-G1 for the second year in a row. Tonalist closed his career with a late-running victory in the Cigar Mile-G1, and his pair of Grade 1 victories on the season were good enough for voters to make him an Eclipse finalist, though he ended up a distant third in that race behind his Whitney conquerors (now his new farm-mates), Honor Code and Liam's Map.
A consistent and high-class performer, Tonalist comes from a strong female family: his 3rd dam is Broodmare of the Year Toll Booth, while Horse of the Year Havre de Grace and Grade 1 winner Riskaverse both appear under his 2nd dam. Out of a daughter of Kentucky Derby-G1 and Preakness-G1 winner Pleasant Colony, Tonalist's career arc arguably demonstrates more the influence of that noted stamina source rather than of his own sire, Tapit.
Inbred 5×4 to Northern Dancer, Tonalist will contribute a cross of that omnipresent influence, as well as one of Mr. Prospector, in the 5th generation of his foals, which is also where Seattle Slew will appear. This means there is little restriction on the mares that would fit Tonalist from an inbreeding perspective, and as a horse who could probably benefit from the injection of some speed into his foals, Storm Cat-line mares should prove an especially good match (even more so since they've already had success with Tapit).
A tall, angular, rangier type of horse, Tonalist should get plenty of support and could prove himself a classic influence at stud, much like recent Belmont winner Lemon Drop Kid has done at Lane's End.
Liam's Map (2011 Unbridled's Song – Miss Macy Sue, by Trippi; $25,000)
An extremely fast, lightly-raced miler in the mold of his sire's best sons, Liam's Map was a neck defeat from being Unbridled's Song's most accomplished runner.
After selling for $800,000 as a yearling, Liam's Map did not make his racetrack debut until August of his 3-year-old season.  He finished 2nd in that first start at Saratoga, then reeled off three consecutive victories around a mile before the end of the year, including a maiden by 9, an allowance by 11, and the Harlan's Holiday Stakes over older horses.  After six months on the sidelines, Liam's Map returned at 4 with another one mile allowance victory over Graded stakes-caliber foes at Belmont.
Trainer Todd Pletcher stepped Liam's Map up to Grade 1 company thereafter, and he led for every step of the 9 furlong Whitney at Saratoga except the last one, when he was nailed by Honor Code with six Grade 1 winners behind them, including Tonalist, Wicked Strong, Lea and Moreno. He bounced back to take the Woodward-G1 at the same track and trip over a solid field by almost 5, racing on the front end once again.
The odds-on favorite in the Breeders' Cup Dirt Mile-G1 at Keeneland to close out his career, Liam's Map demonstrated guts and versatility to go along with his high cruising speed, as he had to overcome a slow break and a traffic-filled trip before running down the top-class Lea in the final stages. Despite his eventful journey, Liam's Map established a new track record in the race, and concluded his eight-race career with six wins and a pair of 2nd-place finishes. An Eclipse Award finalist for Older Dirt Male, he ended up the runner-up to Honor Code in the voting.
Although it is fairly light on black-type for a few generations beyond his own 1st dam, Liam's Map has an intriguing pedigree which contains two strains of the great Tartan product Ta Wee, plus another of her Horse of the Year full-brother Dr. Fager and one of their half-sister Magic (meaning Liam's Map is linebred 6x6x5x6 to Aspidistra, the dam of Ta Wee, Dr. Fager and Magic – read more on this pedigree by Avalyn Hunter here). Liam's Map is free of Northern Dancer and Seattle Slew, and Mr. Prospector will be present only in the 5th generation of his offspring. This means that Liam's Map can be freely crossed with mares from the Storm Cat and Seattle Slew lines to replicate the two combinations which have had the most success with his sire.
Possessed of significant speed that he could carry around two turns, Liam's Map is reminiscent of other Unbridled's Song sons like Graydar, Cross Traffic, Songandaprayer, Old Fashioned and Rockport Harbor – although he is not as physically imposing as some of those, or as Unbridled's Song was himself. Still, with his obvious talent and his thoughtful pedigree, Liam's Map has every right to become a successful sire, probably of horses more inclined to sprint, given the speed influences present (e.g., Trippi and End Sweep) on the bottom of his own pedigree.
Mr Speaker (2011 Pulpit – Salute, by Unbridled; $10,000)
The Grade 1-winning Phipps family homebred Mr Speaker is bred on the same cross as leading sire Tapit.
A Grade 3 winner on turf at 2, Mr Speaker scored an upset victory in the $1,250,000 Belmont Derby-G1T as a 3-year-old over a strong international field.  He also triumphed in the Coolmore Lexington-G3 on Keeneland's Polytrack as a sophomore, and at 4 he added a victory in the Commonwealth Cup-G2T at Laurel, plus a high-priced Belmont allowance.  Trainer Shug McGaughey repeatedly maintained that Mr Speaker would have been equally effective on dirt, but while he wasn't disgraced when 5th in the Travers-G1, he could do no better than 7th in his only other dirt start (the Holy Bull-G2 at Gulfstream in his 3-year-old debut).
As a son of Pulpit out of the Unbridled mare Salute, Mr Speaker has been heavily marketed as being bred on the same cross and having similar racing credentials as Tapit. In fact, Mr Speaker has arguably an even better female family that Tapit, in that his 2nd dam is unbeaten Hall of Famer Personal Ensign, who is the ancestress of no fewer than 12 other stakes winners. Although inbred 3×4 to Mr. Prospector and 5×5 to Buckpasser, Mr Speaker is free of any Northern Dancer blood – so it will be interesting to see if he has similar success to Tapit with mares from that line, given that it will be an outcross in Mr Speaker's case (as opposed to Tapit, who is inbred 5×3 to Northern Dancer's son Nijinsky II – read more from Anne Peters).
What seems likely to work against Mr Speaker's chances of emulating Tapit's success at stud is that he was strictly a turf runner, and thus he will get fewer chances than if he had run successfully on the dirt – even though his pedigree seems to lean more towards dirt success.
But as an attractive, neatly-made Grade 1 winner from an excellent family at a top farm, to see Mr Speaker turn into a success at stud would not be a huge surprise.
WinStar also adds four new stallions for 2016, two of the six in the high-priced group, and a pair of more moderately-priced prospects:
Carpe Diem (2012 Giant's Causeway – Rebridled Dreams, by Unbridled's Song; $25,000)
A brilliant Grade 1 winner at 2 & 3 with looks to match, Carpe Diem is one of the rare million-dollar purchases to prove he was worth that price on the track.
Carpe Diem sold for $550,000 as a yearling and blossomed into a $1,600,000 2-year-old in-training purchase following a :10.1 pre-sale breeze. He showed from the start of his racing career that such speed was no fluke when he went wire-to-wire from the inside post in a 5-1/2 furlong maiden on closing day at Saratoga, winning by 2 lengths over eventual Grade 2-winning sprinter Ready For Rye.
Stretched all the way out to a mile and a sixteenth for his second start, Carpe Diem proved he was more than up to the challenge and romped home by 6 over the likes of Mr. Z and Keen Ice in the Breeders' Futurity-G1 at Keeneland (after its return to dirt) for trainer Todd Pletcher. Carpe Diem then closed out his juvenile campaign with a 2nd-place finish as the favorite in the Breeders' Cup Juvenile-G1 behind Texas Red.
Carpe Diem kicked off his 3-year-old season with a 5 length win in the Tampa Bay Derby-G2 (over Divining Rod, Danzig Moon and Ocean Knight), and followed that up with a 3-length victory back at Keeneland in the Blue Grass-G1. That led to him being the 3rd choice for American Pharoah's Kentucky Derby-G1, in which he could finish only 10th in what would turn out to be his final start after a knee chip led to his retirement.
As his sale prices would indicate, Carpe Diem has a strong catalog page, being a half-brother to J.B.'s Thunder, who also took the Breeders' Futurity-G1 during his 2-year-old season, as well as to stakes winner Doncaster Rover. Carpe Diem's first two dams are both stakes winners (although there is a bit of a black-type gap further back in his pedigree, as noted by John Sparkman). He is a son of the "Iron Horse" Giant's Causeway, three-time leading North American sire, and twice the leading sire of 2-year-olds in this country.
Carpe Diem is inbred 4×5 to Northern Dancer. Mr. Prospector will not show up within the first 5 generations of his offspring, and he is also free of any Seattle Slew blood, with which Giant's Causeway has crossed effectively to produce the likes of Imagining and Eskendreya. So Carpe Diem should suit a wide range of mares.
A well-balanced chestnut with plenty of scope, extremely muscular hindquarters, and an irregular white stripe on his face, Carpe Diem is very similar in looks and build to Giant's Causeway.  He should get every opportunity to step up as his sire's heir at stud despite his own abbreviated race record.
Constitution (2011 Tapit – Baffled, by Distorted Humor; $25,000)
A two-time Grade 1 winner going 9 furlongs by leading sire Tapit, Constitution showed plenty of guts and loads of speed on his best days.
In what seems like a yearly occurrence for one of trainer Todd Pletcher's Kentucky Derby prospects, Constitution ripped off three straight wins in Florida to begin his career:  he overcome a very slow start to break his maiden at 7 furlongs (when he also battled back despite being put in tight off the final turn), then outran eventual Belmont winner Tonalist when controlling things from the front end in a mile and a sixteenth allowance race.
In the Florida Derby-G1, Constitution was bottled up inside behind the pace before squeezing through along the rail and prevailing late despite again being put in tight on the inside in an extremely game performance. He wasn't seen out again after the Florida Derby until October of that year, when he returned with a rank 4th-place finish after stumbling at the break in a Belmont allowance. He followed that with a 3rd in the Clark-G1 at Churchill to close out his sophomore campaign.
In his 4-year-old debut, Constitution went wire-to-wire in the Donn-G1 back at Gulfstream, holding off the previous year's winner, Lea. Another trip to the sidelines followed, and Constitution was away 7 months before returning with a 5th in the grassy Bernard Baruch-G2T at Saratoga, then a 6th in a sloppy renewal of the Jockey Club Gold Cup-G1 to conclude his career.
A son of Tapit, Constitution is one of several stakes winners by that leading sire who are inbred to Seattle Slew (see the link above in the section on Honor Code), in his case 4×5. Constitution is also inbred 4x5x4 to Mr. Prospector, and 5x5x5 to Northern Dancer. He is bred on the reverse of the successful Distorted Humor/A.P. Indy cross, and seems likely to suit Storm Cat and Deputy Minister-line mares (the former would result in inbreeding to Storm Bird, who will appear in the 5th generation of Constitution's foals). Given that Constitution's dam is a half-sister to Grade 1 winner Emcee by Unbridled's Song, it could also be worth trying him with mares by that rising star of a broodmare sire (which would result in inbreeding to Unbridled, who will appear in the 4th generation of Constitution's foals as Tapit's broodmare sire).
A well-built horse with plenty of leg, Constitution has a bit more substance to him than some other sons of Tapit, and given the class of his female family he seems a likely candidate to succeed at stud.
Daredevil (2012 More Than Ready – Chasethewildwind, by Forty Niner; $12,500)
Daredevil, who who couldn't have been more impressive when taking the historic Champagne Stakes under wraps, had a racing career as brief as it was brilliant.
A $260,000 yearling purchase, Daredevil debuted in September of his juvenile season at Belmont when he romped by 6 lengths going 6 furlongs over a muddy/sealed surface as the heavy favorite for trainer Todd Pletcher. He wheeled back just three weeks later and outran the talented Upstart by 2 in the Champagne-G1 (when the track was sloppy/sealed), with that pair 13 lengths clear of the rest, including El Kabeir, Holy Boss and I Spent It. In a very visually impressive performance, Daredevil received only a couple of slaps on the shoulder from Javier Castellano off the turn, and held Upstart at bay with the jockey motionless through the final furlong.
After an ownership interest was sold by Let's Go Stables to WinStar, Daredevil finished last in the Breeders' Cup Juvenile-G1. An interest was then sold to the China Horse Club before Daredevil's sophomore season kicked off with a strong 2nd in the Swale-G2 at 7 furlongs, in which he couldn't run down the speedy Ready For Rye but was 10 lengths clear of the rest, in very good time. Daredevil's last start was a tiring 4th behind Frosted as the favorite in the Wood Memorial-G1 going 9 furlongs at Aqueduct.
His two victories and his popularity among Pletcher's owners suggest that Daredevil had more talent than the public got to witness – although skeptics will point to the track condition in both of Daredevil's wins as having likely hampered his rivals' chances (though a strong effort in the Swale on a fast track makes something of a counterargument). As it stands, Daredevil is a hard horse to whom to give full credit for the impressiveness of his signature win.
Daredevil was the second top-level runner sired by More Than Ready to race for Pletcher and Let's Go Stables in two years, following on the heels of 2013 Haskell-G1 winner Verrazano, who was among the most popular first year sires last year. These two appeared after More Than Ready had previously been known more for the exploits of his offspring "Down Under". But beyond the common connections, the two horses share few other similarities – Daredevil did all of his running before May of his 3-year-old season, while Verrazano didn't debut until he was 3 and ran 10 times that season, then trained on at 4 to be Group 1-placed on turf in Europe. And Verrazano is a big, hulking horse whereas Daredevil is a much more compact, speedier-looking individual.
Daredevil is the second Grade 1 winner produced by his dam, a daughter of Eclipse Champion 2-year-old Forty Niner. His second dam is a Grade 1 winner, and she has produced a pair of fast and precocious European Group stakes winners. She is also the granddam of Grade 1-winning sprinter Here Comes Ben. Daredevil is inbred 3×4 to Halo and 4×3 to Mr. Prospector, and will contribute no crosses of Northern Dancer in the first 5 generations of his offspring (though he will in the 6th). Given the success that Kitten's Joy has had with inbreeding to Hail To Reason and Northern Dancer (read more on this from Joe Nevills), mares featuring additional crosses of those two stallions would be intriguing to try with Daredevil, as would Storm Cat-line mares (especially given that Verrazano is out of a daughter of Giant's Causeway).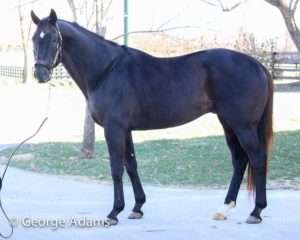 A dark liver chestnut with a distinctive star on his forehead (which features prominently in the clever, superhero-invoking print ad campaign that WinStar has run for him), Daredevil is even more compact and close-coupled than his sire More Than Ready, and it is easy to see where his early speed came from. With his own juvenile success and the precocity present in his pedigree, it will be no surprise if Daredevil sires fast, win-early type 2-year-olds.
Commissioner (2011 A.P. Indy – Flaming Heart, by Touch Gold; $7,500)
A distance-loving member of A.P. Indy's final crop, Commissioner was a only head away from victory in the classic Belmont Stakes.
A homebred for WinStar and trained by Todd Pletcher, Commissioner broke his maiden in his second start as a 2-year-old in a rare 9-furlong maiden special weight at Saratoga.  On the shelf thereafter until January, he resurfaced to take a 9-furlong allowance race at Gulfstream over the highly-regarded Top Billing.  He attempted to earn a spot in the Kentucky Derby, but his best finish in a trio of Graded preps was a 3rd in the Sunland Derby-G3.
So Commissioner skipped the Derby, and after chasing Tonalist wire-to-wire in the Peter Pan-G2 at Belmont, he led every step of the Belmont-G1 until the final one – just getting nipped by a head on the wire at 28-to-1 by Tonalist, who spoilt California Chrome's Triple Crown bid. That was the final race of Commissioner's sophomore season.
He returned to the races as a 4-year-old when he scored three Graded stakes victories, namely the Skip Away-G3 at Gulfstream by a neck in a gutsy effort back-to-back with the Pimlico Special-G3 (those two both at a mile and three sixteenths), plus the mile and a quarter Hawthorne Gold Cup-G2 under top weight to close out his career.
In addition to being a perennial leading sire, A.P. Indy is also the most prolific American sire-of-sires since Mr. Prospector's death in 1999.  Commissioner's female family is strong – his first three dams are all stakes winners, and he is a half-brother Grade 3 winner and Breeders' Cup Sprint-G1 runner-up Laugh Track.  Out of a mare by Touch Gold, Commissioner is free of Mr. Prospector blood, which was the most successful cross for A.P. Indy.  He is inbred 4×4 to Buckpasser and 5×5 to Hail To Reason, and he will not contribute a cross of Northern Dancer within the first 5 generations of his foals.
Although he tended to race near the pace, Commissioner was not a speed horse and never won a race going shorter than 9 furlongs. By a Belmont winner and out of a mare by a Belmont winner, Commissioner comes by his distance proclivities honestly (although his half-brother placed in the Breeders' Cup Sprint, he was a son of the speedier influence Distorted Humor).
A stout, strong horse with plenty of length of body and perhaps just a tad short-legged, Commissioner should certainly inject stamina into his offspring, but seems likely to require mares with plenty of speed if he is to become a successful stallion.
Ashford is home to a pair of new stallions in 2016, including the priciest of the newcomers:
American Pharoah (2012 Pioneerof the Nile – Littleprincessemma, by Yankee Gentleman; $200,000)
The first Triple Crown winner in 37 years, American Pharoah completed a 3-year-old campaign that harkened back to some of the all-time greats and culminated with a scintillating track-record victory in the Breeders' Cup Classic.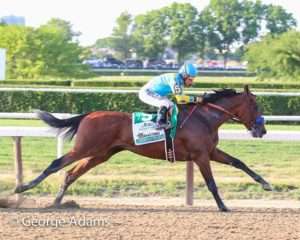 American Pharoah began his racing career rather more inauspiciously than was expected, fading to 5th as the favorite in a Del Mar maiden special weight (albeit one that proved to be loaded with future Graded stakes horses). Undaunted, trainer Bob Baffert ran him next in the Del Mar Futurity-G1 and American Pharoah streaked home 5 lengths clear as the second choice (the only time in his career that he wasn't favored).
A 3-length romp in the FrontRunner-G1 followed, after which American Pharoah was the favorite for the Breeders' Cup Juvenile until injury forced his withdrawal from the race. Since the winner of that event, Texas Red, had been soundly beaten by American Pharoah in the FrontRunner, Eclipse Award voters honored American Pharoah as the best juvenile of the year despite having missed the division's biggest race.
American Pharoah returned in March of his sophomore season with a 6-length drubbing of his foes in a sloppy edition of the Rebel-G2, then completed an 8-length tour de force at odds of 1-to-10 in the Arkansas Derby-G1 to head to Churchill Downs with his "superstar aura" intact (as Steve Haskin referenced at the Blood-Horse). He had to work harder than in any of his previous starts to overcome a 5-wide trip and out-duel Firing Line and Dortmund through the lane, but American Pharoah gamely triumphed in the Kentucky Derby-G1 by a length (the smallest winning margin of his career).
Just prior to the start of the Preakness-G1, a massive rain- and thunderstorm let loose over Baltimore, instantaneously turning the track into a sea of slop. Jockey Victor Espinoza hustled American Pharoah straight to the front in a heady ride, and the pair coasted home by 7 to set up their bid for history.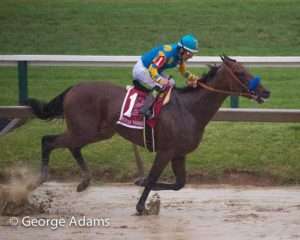 Unlike the monsoon at Pimlico, the Belmont-G1 was run on a perfect June day, and American Pharoah capitalized on an equally perfect trip to run himself into racing lore, closing the final half-mile of the race in a faster time than any of the other Triple Crown winners.
After a brief break, American Pharoah returned with an incredibly easy victory in the Haskell-G1 at Monmouth before being upset by Keen Ice in the Travers-G1 at Saratoga after Frosted and jockey Jose Lezcano engaged in a suicide mission (which was mentioned in our post-Breeders' Cup blog).
That left just the Breeders' Cup Classic-G1 at Keeneland on his agenda, and American Pharoah not only restored any luster he might have lost in defeat, but cemented his status among the all-time greats when he coasted home by 6-lengths over a top-notch field in track-record time, earning a 120 Beyer Speed Figure for his performance.
A unanimous choice for Horse of the Year, American Pharoah enters stud at the highest initial fee since Ghostzapper in 2006. From the second crop of Grade 1 winner Pioneer of the Nile (who is not just a one-hit wonder, having also already gotten Graded stakes winners Cairo Prince, Midnight Storm, Vinceremos and Jojo Warrior), American Pharoah's success also led to the return of his grandsire Empire Maker from Japan for the 2016 season .
American Pharoah's dam Littleprincessemma did not win a race, but is a half to a pair of Graded stakes winners – although American Pharoah's 3rd and 4th dams show no black type among their produce. Littleprincessemma is by the speedy Yankee Gentleman, a son of Storm Cat, whose influence led to doubts about American Pharoah's ability to excel at classic distances.
American Pharoah is inbred 5×5 to Northern Dancer, and should be an excellent match for A.P. Indy-line mares, given that Empire Maker's most successful runner, Royal Delta, is out of a daughter of A.P. Indy.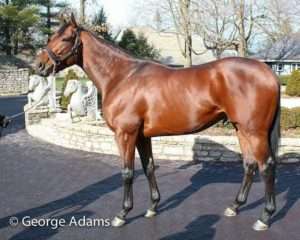 A perfectly-balanced, medium-sized horse with a huge, fluid stride that was well-documented during his racing days, American Pharoah will obviously get every chance to become a top stallion – but given the expectations that come with his racetrack success, not to mention his high initial stud fee, he seems bound to be a disappointment as a sire in that it will be virtually impossible for him to reproduce a horse of his own class just once, let alone on a regular basis (as alluded to by Steven Crist at the DRF here). His pedigree would also suggest that his offspring will be more inclined to distances around a mile, as opposed to classic types like he was himself.
Competitive Edge (2012 Super Saver – Magdalena's Chase, by Cape Town; $12,500)
A top-class 2-year-old and record-setting miler at 3, Competitive Edge is the first son of hot young sire Super Saver to retire to stud.
Competitive Edge was a $750,000 2-year-old in-training purchase and paid a quick dividend when he went-to-wire by 10 under a hand-ride in his 6-furlong Saratoga debut as the odds-on favorite. He followed that up with a 6-length score in the Hopeful-G1 over another son of Super Saver in Saratoga Special-G2 winner I Spent It when again odds-on. Though he was targeting the Breeders' Cup immediately after the Hopeful, Competitive Edge ended up going to the sidelines until the following March.
He returned with a facile victory in the Tamarac Stakes at Gulfstream going 7 furlongs, then ran his record to 4-for-4 with a stakes record-setting win in the one-mile Derby Trial-G3, coming home 4 lengths clear after showing the ability to stalk the pace (he had previously been on the front end in each of his races).
Competitive Edge lost his unbeaten status when 6th and last as the favorite in the 7-furlong Woody Stephens-G2 on the Belmont undercard with no real excuse.
He bounced back with a solid 4th behind American Pharoah after setting the pace on the stretch-out to 9 furlongs in the Haskell-G1, but was subsequently 8th with a troubled trip in his final start in the King's Bishop-G1 at Saratoga.
From the first crop of Kentucky Derby-G1 winner Super Saver (as is 2015 Eclipse Champion Sprinter Runhappy), Competitive Edge is out of a stakes-placed Cape Town mare. His immediate catalog page is a bit light, but his 3rd dam produced Grade 1 winner Wild Syn, and his 4th dam is the ancestress of Grade 1 winner Constitution, among others. Competitive Edge is heavily inbred: 4×4 to Seattle Slew, 4×4 to Mr. Prospector, 5×5 to Buckpasser, 5×5 to Secretariat, and 5×5 to Northern Dancer. Most of this inbreeding is at enough of a remove that it shouldn't have a huge effect on the mares sent to him.
A long-bodied colt with short cannons, a strong shoulder and heavily-muscled hindquarters, Competitive Edge has a decidedly "downhill" build, which explains where he derived his excellent speed.  Super Saver has been a surprisingly brilliant influence thus far in his stud career, and Competitive Edge could get some win-early types like he was himself.