Congratulations to Housatonic clients Greenspring Mares LLC and Wasabi Ventures Stables, LLC, who each sold a short yearling colt at the recently-concluded Keeneland January Sale for high prices.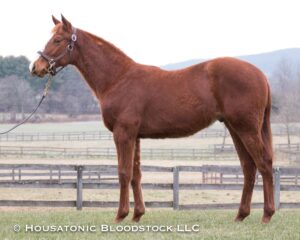 On the second day of the sale, a Greenspring Mares LLC-bred colt by Munnings out of I'm Engaged, by Broken Vow, the product of a Housatonic Recommended Mating and conceived on a $20,000 advertised stud fee, sold for $110,000 out of the Mill Ridge consignment to Hideaway Farms.
The sale's final session was topped by an Army Mule colt who was purchased in utero by Housatonic on behalf of Wasabi Ventures Stables, LLC, for $10,000 just 14 months earlier.  Out of the Mizzen Mast mare Hurryupandcomeback, and also consigned by Mill Ridge, he brought a bid of $95,000 from Tulip Poplar.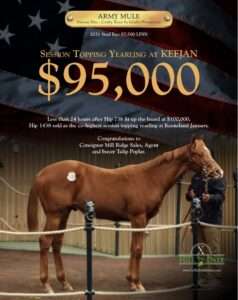 Both colts are Maryland-breds, and were prepped in Maryland by GreenMount Farm and St. Omer's Farm, respectively.
You can read the Blood-Horse Daily story on Wasabi and their Army Mule colt here.