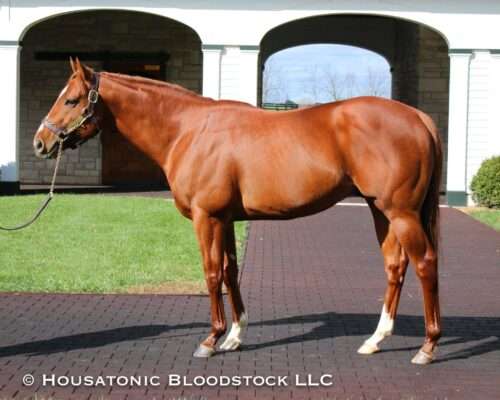 "He's the best value in Kentucky this spring," @HousatonicGWA4's George Adams said of @spendthriftfarm's Jimmy Creed. pic.twitter.com/fJohMuoCLb

— TDN (@theTDN) April 1, 2020
We believe that Jimmy Creed is the best value play in Kentucky again for the 2021 breeding season, and are excited to have recently secured breeding rights in him for a client.  We will also be recommending him heavily this spring for our other clients' mares.
His physique earned Jimmy Creed a $900,000 yearling price tag, and he went on to be a grade 1-winning 3YO sprinter on the track.  He now has four crops of racing age, including his 2020 2YOs, and from those 259 foals of racing age, his 14 stakes winners is good for 5.4% of his foals, and he sports a 1.30 AEI compared to just a 1.01 CI, meaning he moves his mares way up.  His four graded winners include the top-class King Jack, who earned a 111 Beyer taking the G2 Gallant Bob at 6 furlongs on dirt, plus the likes of Casa Creed, who won the G2 National Museum of Racing HOF Stakes going a mile on turf and was G1-placed in 2020 at 5YO, as was Kanthaka (a dual-surface sprinter).
After starting out at $12,500 for his first season, Jimmy Creed's subsequent crops were conceived at fees down to as low as $5,000 advertised, but his early success earned him a bump to $15,000 in 2018 when he covered 164 mares (his increase in mares-bred led the country that season) — a crop which will be 2YOs in 2021 — and $20,000 for 2019 when he covered 138 mares.
Jimmy Creed's 2020 yearling average of $40,344 is almost double his 2019 average, and he had individuals bring $500,000, $240,000, $120,000, etc.
All of which, we think, adds up to Jimmy Creed being the top value stallion standing in Kentucky for 2021 at his advertised fee of $10,000.
EQB's Patti Miller: "Jeff (Seder) and I have found that a disproportionate number of JIMMY CREED's progeny have tested elite in ability according to our metrics. We think he will prove to be a powerful stallion in our industry." 💪 #BreedWithCreed pic.twitter.com/yPdFugvZn0

— Spendthrift Farm (@spendthriftfarm) August 16, 2019
Jimmy Creed wins the G1 Malibu

King Jack, by Jimmy Creed, wins the G2 Gallant Bob with a 111 Beyer

Kanthaka, by Jimmy Creed, wins the G2 San Vicente

Casa Creed, by Jimmy Creed, wins the G2 National Museum of Racing HOF