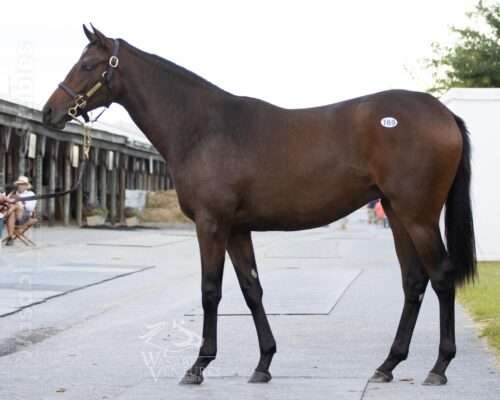 We helped our friends at Wasabi Ventures Stables select this NY-bred filly from the 2021 Fasig-Tipton Midlantic Yearling Sale at Timonium for $32,000.
This filly is a daughter of Horse of the Year and dual Breeders' Cup Classic-G1 winner Tiznow, who went on to b a leading sire who is responsible for the likes of Eclipse Champion Folklore, other G1 winners like Well Armed, Tourist, Colonel John, Tizway, Morning Line, Da'Tara, Gemologist, Sporting Chance, Strong Mandate, Tiz Miz Sue, Tough Tiz's Sis, plus 2021 top 3YO Midnight Bourbon.  He is the last prominent stallion to trace tail-male to the legendary Man o' War, and has been renowned for passing on classic capabilities.  He is typically thought of as a dirt sire, though he has gotten plenty of good turf horses as well (for example, Tourist won the BC Mile-G1T), and while many of his offspring need some time to reach their best, he has gotten top 2YOs like Folklore, Sporting Chance and Strong Mandate.
This filly's dam is the winning Stormy Atlantic mare Stormy Antics.  As a broodmare, Stormy Antics has produced six foals of racing age, all of whom have raced and five of whom are winners (the only non-winner thus far is her 2021 2YO who has raced just one time so far, in a competitive Saratoga maiden special weight).  Her best is the stakes winner of $159,956 Student Body.  Sired by Tiznow's son Colonel John, Student Body took the Mardi Gras Stakes sprinting 5-1/2 furlongs over the Fair Grounds turf at 5YO, in addition to four other career victories from 6 furlongs to 7 furlongs on dirt and all-weather.  Student Body produced her first foal in 2021, a filly by Justify, and she was bred back to Medaglia d'Oro.
Stormy Antics' other winners include Student Body Left (by Tiznow's son Tizway), who earned $92,520, plus When I Do (by Stay Thirsty), K P Whirlwind (by Congrats), and Majestic Grace (by Majestic Warrior).  After this filly, she has a weanling filly on the ground by Violence and was bred to Union Rags for 2022.
Stormy Antics is out of the G3 winner Jeano, who earned just shy of half a million dollars on the track and is the dam of stakes-placed Prinz Oskar.  But it is through her daughters that Jeano has excelled — her daughter Contrive produced Eclipse Champion 2YO filly Folklore (by Tiznow, and herself the granddam of Japanese Triple Crown winner Contrail) and is the granddam of Eclipse Champion 2YO colt Essential Quality, plus stakes winner Tiz Plan (by Tiznow).  Another daughter of Jeano, Never a No Hitter, is the dam of G2 winner Tizahit (by Tiznow, and in turn the dam of G1 winner Come Dancing), while her daughter Kew Garden is the dam of stakes winner Queens Plaza and granddam of G3 winner Lord Alex and stakes winner Queen Caroline.  Yet another daughter, Queen's Lady, is the granddam of G3 winner Biddy Duke.
It is also noteworthy that Stormy Antics (and thus her Tiznow filly, too) traces in tail-female to the taproot mare La Troienne.
So this filly comes from an extremely deep and productive family, which has already had repeated and high level success when crossed with this filly's sire Tiznow and his sons, and we look forward to a productive racing career for her!