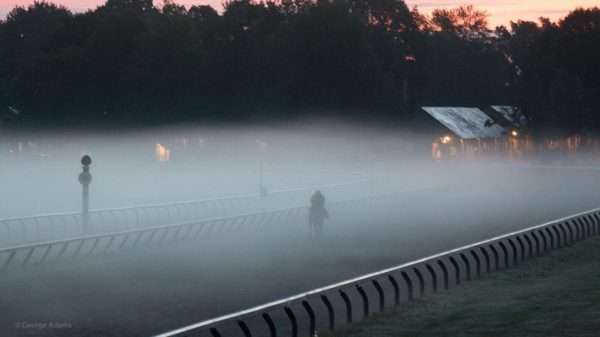 Several of the major racing publications, both in the States and Europe, have recently put out their versions of a "Value Sires List," which we always read with fascination – and excitement, when those experts validate our own choices or the recommendations that we've made to our clients.  Usually the authors of these articles take into account commercial considerations, as well as the racing accomplishments of the offspring of sires on those lists.
But in light of the frustrating, and quite ironic, disparity that often exists between sires that are commercial successes and those that just get "runners" without being afforded any corresponding respect by the sales market, we have chosen to make our own list of Value Sires in this piece based exclusively upon the racing accomplishments of these sires' progeny, without any reference whatsoever to how well those foals might sell at auction.
We have looked at stallions for whom the listed stud fee is no higher than $25,000 (for one stallion on the list, whose fee is officially listed as "private," the actual number is rumored to be within our range).  The statistics for the stallions are current as of February 8, 2018, found at equineline.com and the BloodHorse Stallion Register, while the breed averages that we reference were compiled by the Jockey Club (though these averages were based upon data just from foals of 2005-2014, and therefor might not line up completely with the statistics for all of the stallions being discussed, we think the conclusions drawn are accurate enough to serve our purposes).  We have also used exclusively Northern Hemisphere data, and the counts of Graded Stakes Winners ("GSWs") and Grade 1 Winners ("G1Ws") that we reference are inclusive of North America and Europe only.
With all of that out of the way, the sire that we think currently offers the greatest value for a breeder trying to get a runner is MUNNINGS, who stands for $25,000 at Ashford.  With just 405 foals of racing age so far (not counting 2-year-olds of 2018, since they can't actually run yet), MUNNINGS has already produced 25 stakes winners ("SWs," and good for 8.8% from foals), including two G1Ws and an additional six GSWs (0.7% and 2.8% from foals, respectively).  These percentages are all high enough to place MUNNINGS within the top 1% of stallions, the Elite Sires, if you will.  His ratios of winners/foals and winners/runners are also strong enough to place MUNNINGS among the Elite Sires.
The most impressive part about what MUNNINGS has already achieved is that he has done so with very little help from his mares.  The highest fee at which any of his runners was conceived was $12,500, and it dipped lower than that in the years before he had his first 3-year-olds.  His excellent race track results, and correspondingly strong average earnings index ("AEI") of 1.72, have thus been achieved with a minuscule comparable index ("CI") of 1.27.  One would only expect MUNNINGS to achieve more success when the foals from his classier books of mares reach the races (in 2019 and beyond), but even as things stand now, he's incredibly accomplished for $25,000.
We now move onto a group of older, proven stallions standing in Kentucky for advertised fees of $5,000 to $15,000.  All four of these sires have consistently moved their mares up to achieve stakes numbers and percentages in the realm of the Elite Sires.
STORMY ATLANTIC, who stands for $15,000 at Hill 'N' Dale, has sired 98 Northern Hemisphere stakes winners, which equates to 6.5% of his foals (seven more SWs conceived in the Southern Hemisphere put him over 100 for his career).  He has six G1Ws to his credit (including last year's BC Turf Sprint winner, Stormy Liberal), and 33 GSWs – the latter of which is good for 2.2% of foals, placing him just shy of the cutoff for the Elite Sires.  He is similarly well-above the breed average in terms of runners/foals, winners/foals and winners/runners, not to mention his average earnings per starter, and his AEI of 1.49 is greater than his 1.46 CI.  A former leading juvenile sire, at his advertised fee STORMY ATLANTIC has to be considered a fantastic option to start off a young mare's breeding career or for a breeder who is looking to get a solid runner.
INCLUDE, LANGFUHR and NORTHERN AFLEET have surprisingly similar profiles, despite the fact that their racing careers and pedigrees are quite diverse.  But all three rank with the Elite Sires in terms of their ratios of runners/foals, winners/foals and winners/runners, and have very high median earnings per starter.
INCLUDE, who stands for $7,500 at Airdrie, has ratios of winners/foals and winners/starters that stand at 65.2% and 79.8%, respectively.  His runners also have average earnings of $73,846, and median earnings of $37,984.  His 40 career SWs is equal to 5.5% of his foals, and he has sired five G1Ws which equates to 0.7%, placing him among the Elite Sires for that metric (again, these totals are just for his Northern Hemisphere crops).  The one knock on INCLUDE might be that he's a bit hit or miss, with only seven further GSWs, but the resulting percentage (1.7%) is still more than double the breed average, even if it doesn't quite rank with the Elite Sires.  Still, with a 1.51 AEI versus a 1.34 CI, INCLUDE moves his mares way up, and is more than capable of getting a fast, sturdy runner.
NORTHERN AFLEET stands for $5,000 at Taylor Made.  He also has impressive ratios of runners/foals (82.2%), winners/runners (79.1%), and winners/foals (65.0%), to go along with 47 SWs (4.4%), seven G1Ws (0.7%, and again, just in the Northern Hemisphere) but only eight additional GSWs (total of 1.4% GSWs/foals).  Still, one of those G1Ws is the 2017 Eclipse Champion Turf Horse, World Approval, and NORTHERN AFLEET's average earnings per starter ($78,950) and median earnings per starter ($34,714) also stack up very well.  He has also done it pretty much all himself, achieving a 1.49 AEI with the help of a CI at just 1.27.
LANGFUHR also stands for $5,000, he at Lane's End.  He has an incredible ratio of runners/foals (83.9%), and his percentages of winners to foals (64.6%) and to runners (77.0%) are both excellent, as well.  He's sired 66 career SWs (4.7%), including six G1Ws (0.4%) and nineteen total GSWs (1.3%), all of which are well above the breed average.  With average earnings per starter of $85,772 and median earnings per starter of $36,393, LANGFUHR has consistently gotten solid performers who win plenty of good races, and money, and he has moved his mares up, sporting a 1.41 AEI to go with a 1.34 CI.
There is one older, regional stallion who stacks up well nationally in our calculations, even if some of his earnings might be slightly inflated by a strong state-bred program.  That horse is FREUD, whose fee is down to $7,500 this year at Sequel in New York.  Though his runners/foals and winners/foals ratios aren't the highest (76.8% and 54.1%), he still does far better than the breed average in those categories, and his 46 career SWs (5.7%) include three G1Ws (0.4%), 2017 G1W Sharp Azteca among them, and five more GSWs (1.0%), a lot better than the breed average.  And even if his $80,815 average earnings per starter and $36,696 median earnings per starter don't tell quite a true story given the large New York-bred purses for which his offspring tend to run, he's still moving his New York mares up a good deal, with a 1.57 AEI compared to a 1.26 CI.
Before we move onto one more up-and-coming stallion on which we are extremely high, there are two older Kentucky sires who have proven themselves over long careers to be among the top stallions in the country, and if we had a young mare looking for a $25,000 stud fee stallion, we would not hesitate to send her to either AWESOME AGAIN (at Adena Springs) or LEMON DROP KID (at Lane's End).  Though both get slightly fewer of their foals to the races than the Elite Sires (and fewer winners among those foals that do race), their lifetime percentages of GSWs and G1Ws are through the roof:  AWESOME AGAIN has thirteen G1Ws (1.1%) and 34 total GSWs (2.9%) while LEMOND DROP KID's numbers are nine G1Ws (0.7%) and 44 GSWs (3.4%!).  LEMOND DROP KID also has a very strong 6.7% SWs, while AWESOME AGAIN sits at 5.3%, but AWESOME AGAIN has also moved up his mares, as witnessed by a 1.97 AEI compared to a 1.89 CI.  LEMON DROP KID has a 1.70 AEI compared to a 1.80 CI, so he might have been expected to do even better than he has, but still – it's very hard to argue with what he has achieved, especially now that he's down to $25,000.
Moving on, the other young stallion who we see as a fantastic value is KANTHAROS, who stands for $15,000 at Hill 'N' Dale, having moved there from Florida prior to the 2017 breeding season.  While his winners/foals and winners/starters ratios do not blow you away, they're still above average, and he has accounted for fourteen SWs already (6.4%), including four GSWs (1.8%) – though no G1Ws as of yet.  Still, that seems to be only a matter of time now that he is getting access to Kentucky mares, and his current AEI of 1.66 has been achieved with mates who are good for just a 1.27 CI.
Finally, there are two stallions standing in the Mid-Atlantic who we think belong on this list as well, and whom we've referenced before in print, namely GREAT NOTION and JUMP START.
GREAT NOTION is up to $5,000 this year at Northview Maryland, and his fifteen career SWs constitutes 5.1% of his foals (though he has only gotten a single GSW, which is not entirely shocking for a sire who has only stood in Maryland and for an advertised fee of $3,500).  His percentage of runners to foals is a tad low (70.7%), but he makes up for that with excellent numbers of winners/starters and winners/foals (76.2% and 53.9%, respectively).  His average earnings per starter is solid at $70,382, and his median earnings per starter is an even stronger $37,663.  GREAT NOTION has achieved an AEI of 1.51 to go with a CI of just 1.22, so he moves his mares way up, too.
JUMP START, meanwhile, stands for $10,000 at Northview's Pennsyvania division, having started out in Kentucky back in the day.  JUMP START has 41 career SWs (5.0%), including eleven GSWs (1.3%) and a single G1W.   He gets plenty of foals to the races (76%), and 76.1% of those win a race (good for 57.8% of all of his foals).  Though his offspring tend to compete in the lucrative Pennsylvania-bred program, which may have inflated his average earnings per starter to $82,357, with a median amount of $35,030, he has still moved his regional mares up, with a 1.45 AEI to go with his 1.30 CI.
Although the above stallions are not market darlings by which you can expect to get a home run sales yearling, any trainer would be glad to have their offspring in the barn.  And for a breeder looking to race or willing to play the long game to collect breeder bonuses instead of trying for a quick score at the sales, you won't find better value for your stud fee.