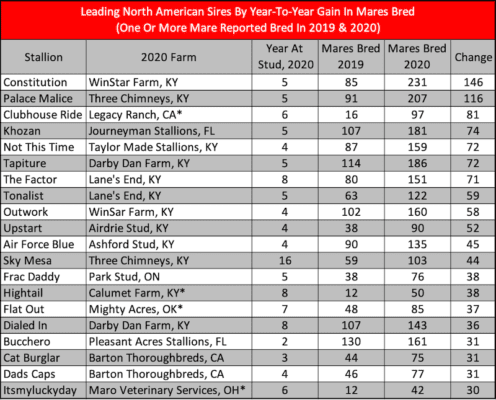 In looking at the Leading NA Sires By Year-To-Year Gain in Mares Bred recently compiled by Joe Nevills at the Paulick Report, one number stood out more than any other on the chart:  2.
In just his second year at stud, when most stallion managers are at pains to lose as little ground as possible off an inevitably-larger first season book, Bucchero gained 31 mares to go from 130 in his first book to 161 in his second at Pleasant Acres Stallions in Florida.  While that increase is impressive enough to be included on this list of the top twenty among all stallions, to do it from his first to his second breeding season is pretty incredible — especially since that 130 in his first year was none too shabby to begin with. (Having recently managed the first season at stud of a regional stallion where we were quite happy to have secured a book of mares less than half that amount, I can assure you that "none too shabby" is a fairly sizable understatement.)
Creative and innovative marketing efforts by Bucchero's owner/manager Harlan Malter and the Pleasant Acres team surely helped propel Bucchero to be the most popular sire in Florida in his first two years at stud. Trademarking the term "Freaky Fast Family" to describe Bucchero's pedigree (he is closely related to top 2019 sprinter World of Trouble, among others), along with developing a "Loyalty Lock-In Program" to ensure support for Bucchero in the coming seasons, in addition to creating a foal photo site shocking in its scope and inclusivity, all bolstered Bucchero's stature in Florida. However, just a cursory review of Bucchero's on-track performance, versatility and durability, paired with a flashy and impressive physical, surely gives breeders a firm basis for their enthusiasm.
Second in his first start at 2YO despite debuting in stakes company, Bucchero broke his maiden by 6 lengths in his second start going 6 furlongs on dirt.  His second victory came in a 5-furlong turf sprint, and his third in a 1-1/16 mile dirt stakes.  That was the first of his seven black-type triumphs through his 6YO season, which included back-to-back wins in Keeneland's G2 Woodford Stakes at 5-1/2 furlongs on grass.  He was also beaten just a length for the win in the G1 Breeders' Cup Turf Sprint, and came home a close 5th of 14 at Royal Ascot in the historic G1 King's Stand Stakes.
Bucchero's career record of (31) 11-6-3, $947,936, does much to explain his first-year popularity in 2019, especially in the state recently vacated by his own sire Kantharos, whose early crops' success were sufficient to earn him a call-up to Kentucky at Hill 'N' Dale Farm where he now commands a $30,000 live foal fee.  And the 2018 and 2019 racetrack performances of the aforementioned World of Trouble (also by Kantharos, and out of a half-sister to Bucchero) were helpful in keeping Bucchero's name in the headlines thanks to Malter's marketing.  In an environment where speed and precocity are prized above all else, and where turf ability is ever-more lucrative, Bucchero himself had all of the above in spades, and he came by it honestly.
While his first-crop offspring will still have to perform on the racetrack, the fact that Bucchero will have more bullets to fire from his second book of mares means that he ought to be able to avoid the otherwise prevalent drop-off in numbers and quality of winners seen by recent first-season stars when their subsequent crop reaches the races.
This offers a boon to the mare owners who support him in his upcoming third and fourth years at stud, as well. Whereas breeders in these seasons are typically the ones left holding the bag if a stallion does not immediately hit it out of the park with his first crop — because statistically it's a horse's biggest and best-bred bunch — Bucchero gets a second swing for the fences with this huge second crop of similar quality (for example, the dam of 2020 multiple open company 2YO stakes winner Joy's Rocket was bred to Bucchero this spring, as was the dam of recent open company stakes-placed 2YO Windy City Red), and that means another chance for Bucchero supporters to score, too.
–George Adams, Housatonic Bloodstock, November 19, 2020