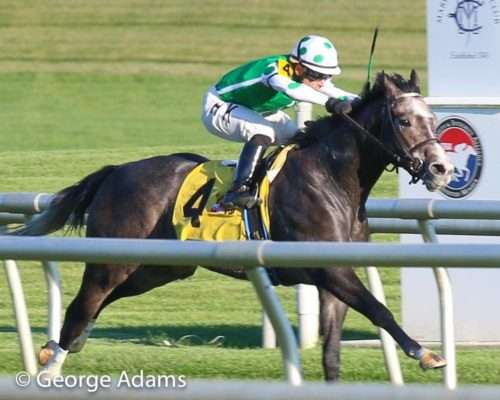 Previously in this space, we have discussed the journey we are taking with one of our first homebreds, the now-2-year-old gelding Nautical Nature. A son of The Factor out of the first mare that we ever purchased, Atlantic Rainbow, we attempted to sell the then-colt at last year's Keeneland September Yearling Sale. But his lack of size limited his appeal to potential purchasers, and he failed to reach his reserve when he went through the ring. We subsequently sold a half-interest in him to the Pewter Stable of trainer Kate Demasi and her husband, Greg.
After an incident-free stint at Woodberry Payne's Virginia training center earlier this year, Nautical Nature shipped to Kate's barn at Monmouth Park this summer to complete his preparations. Other than needing to be gelded to help his focus, everything continued to go smoothly following his transfer to the track, and he reached the races last week.
Nautical Nature was entered in a $40,000 maiden special weight on Friday, October 20th, at Laurel, going 5-1/2 furlongs on turf. He drew post position #4 (our lucky number) with jockey Horacio Karamanos aboard, and was tabbed at 10/1 on the morning-line in an over-subscribed field.
Ending up at just a tad under that price in the field of ten that went to the post, we were cautiously optimistic that Nautical Nature would run well, and that he would show us enough to have something to look forward to with him in the future.
We could never have dreamed that he would run as well as he did!
After breaking with the field, Nautical Nature immediately rushed up to take the early lead, and was two lengths in front after a quarter-mile. We'll admit to being concerned that he was a bit too keyed up and was going to burn himself out, but Karamanos wasn't fighting with him and also wasn't pushing on him.
Nautical Nature maintained his lead around the turn, but as the reached the top of the stretch – with a long run to Laurel's second finish-line – it looked like some of the others were closing in on him, including It Is Time (a More Than Ready half-brother to multiple Graded stakes winner American Anthem, making his debut).
As they straightened up, Karamanos still hadn't really gotten into Nautical Nature, just pushing on him a bit with his hands, until he glanced back and saw Clouded Judgment gaining to his outside. At that point, Karamanos tapped him once right-handed, then switched his stick to his left hand and gave Nautical Nature a couple of swats.
The response was immediate, as Nautical Nature re-broke and turned back Clouded Judgment, opening up his lead in the final stages of the race to win by an official three-and-three-quarters lengths!
Karamanos reported that Nautical Nature was still a bit green, but that isn't unexpected for a first-time starter, and suggests that there should still be some improvement in Nautical Nature off of this effort.
As we head into winter, we would like to take advantage of Nautical Nature's obvious turf ability for as long as possible (though both his sire and broodmare sire have plenty of dirt runners, too), and so we might look at a turf allowance in November at Laurel for Nautical Nature's next start – perhaps followed by the Maryland Juvenile Futurity on the dirt there in December.
As a Maryland-bred, we are anxious to keep him in the Midatlantic, as on top of his purse winnings, Nautical Nature also earned a 30% Owner Bonus that we split with the Demasis' Pewter Stable, and a 30% Breeder Bonus that's all ours – which just about makes up for his failure to sell last fall. And he would be running for similar bonuses in every race he would enter at Laurel.
Nautical Nature's victory also won't hurt the sales price of his weanling half-sister by Graydar, who we will be selling next month at the Keeneland November Sale.
**
Speaking of The Factor and Graydar, we wanted to take a moment to check up on some of our stallion choices from the past couple of seasons.
In 2016, we bred to Discreet Cat, First Samurai, Girolamo, Graydar and The Factor, and bought mares in-foal to Bodemeister and Daredevil.
We bought Winning Bet in-foal to Bodemeister this past January for $25,000, and she subsequently produced a colt, now-named Mega Millions, this past May, three days before Bodemeister's first-crop son Always Dreaming won the G1 Kentucky Derby. Bodemeister also has multiple Graded stakes winner American Anthem so far from his first crop, while his second crop of 2-year-olds include this summer's TDN Rising Star Zulfikhar, for Bob Baffert. Bodemeister is the #1 Second Crop Sire, and is going to stand for an increased fee of $40,000 next year at WinStar. Mega Millions is going to sell at the Keeneland November Sale next month.
Daredevil (sire of Rough Water's weanling filly, Deep Diver) has his first crop of weanlings reaching the sales this year, and had three sell alread at Fasig-Tipton's recent Saratoga Mixed Sale for $60,000, $45,000 and $32,000 (we bought Rought Water for $13,000 in foal to him in January). Deep Diver is going to sell at the Keeneland January Sale.
We switched Curlin's Needle to Discreet Cat after she had failed to get in foal to Girolamo from a handful of coverings, and she produced a colt this past spring (Start From Scratch, who will sell at Keeneland in January). Unfortunately, Darley decided to send Discreet Cat to their Japanese farm this past spring, but he has accounted for this year's G3-winning sprinter Lord Simba. Meanwhile, Girolamo's first-crop daughter Highway Star has won three Graded stakes races this year and placed in a pair of G1s – she will be running in the G1 Breeders' Cup Filly & Mare Sprint next weekend.
First Samurai was our choice of a mate for Hula Skirt, though we ended up selling her in foal to him at the Keeneland November Sale last year. We picked First Samurai as he appeared poised to rejuvenate his reputation with large crops coming to the races in the coming years, and he has proved us correct with a pair of Graded stakes-winning 3-year-olds to his credit, plus three stakes-winning juveniles (and another G2-placed 2-year-old filly). His yearling sales average also increased substantially, from $67,000 to $115,000.
We picked Graydar as a mate for Atlantic Rainbow off the strength of his first-crop weanling sales, and his first 2-year-olds are now running as we get ready to sell Atlantic Rainbow's weanling filly (Boynton Beach) at the Keeneland November Sale. After a bit of a slow start, Graydar is now up to ten first-crop winners – only four freshman sires have more than that – and he should keep gaining momentum as his progeny get a chance to stretch out in distance.
After buying Atlantic Rainbow in-foal to The Factor in 2014, we bred I'm Engaged to him in 2016, and she produced a filly (A Ring Thing) this past spring. The Factor had a G1-winning 2-year-old filly last year in his first crop, and added G3 winner Multiplier this spring. A pair of first-crop sons, Cistron and Kroy, have performed well in stakes on both turf and dirt this year, and are targeting Graded turf stakes in California in the next month. Unfortunately, The Factor will be leased to Japan for the 2018 breeding season, which probably will not help his weanling average this fall when we will be selling A Ring Thing at Keeneland.
This past spring, we decided to breed to Declaration of War, Golden Years, Hit It A Bomb, Jump Start, Midnight Lute, Munnings and Verrazano.
Declaration of War (the mate of I'm Engaged) has had seven first-crop winners so far, including the G3-winning and G1-placed Irish filly Actress, and British stakes winner Eirene. He also has the exciting French G1-placed colt Olmedo to his credit, and Bill Mott sent out the maiden Irish Territory to place in a G2 at Saratoga this summer. Declaration of War is currently ranked #8 on the Freshman Sire List.
Jump Start (the mate of Curlin's Needle, though she did not get pregnant) is having another strong year from his base in Pennsylvania, including having picked up a new G3 winner in Just Call Kenny.
We bred Atlantic Rainbow to Midnight Lute this past spring (though she also did not get pregnant) because he is another that appeared poised for increased success on the back of large, well-bred crops coming to the races this year and next. And this year's crop of 2-year-olds by Midnight Lute already contains no fewer than three who have picked up black-type, including the stakes winner and G2-placed Kelly's Humor and G1-placed Zatter.
Munnings – to whom we were able to switch Winning Bet this past spring at the last minute – is having another excellent year. His son El Deal romped by eight lengths in a G1 at Saratoga this summer, while his 3-year-old daughter Munny Spunt took a G3 at Del Mar, and his 2-year-old filly Artistic Diva was a stakes winner at Santa Anita in the last week. Munnings has no fewer than seven additional stakes winners this year, bringing his career total to 24 already.
Verrazano's first yearlings sold this year after we bred Rough Water to him in the spring, and the 76 of those yearlings to sell have averaged just shy of $100,000, good for third among his crop. Those are strong results, and with a large first crop reaching the races next year, we are hoping that the judges at the yearling sales were correct.
Golden Years and Hit It A Bomb were both covering their first books of mares this spring, so it's a bit early to have much to say about either of them – although Hit It A Bomb's 2-year-old full-brother, Threeandfourpence, did break his maiden last month and was recently 4th in a British G1 (and he's entered in a French G1 this weekend).
**
We posted about it when it happened, but wanted to again mention the exciting news that a filly we bred sold at the Keeneland September Sale for $170,000! Unfortunately, we no longer owned Hula Skirt's filly by Twirling Candy at the time of that sale, having sold her to the Zayat Stables last November for $52,000. But still, a sale like that from a horse that we bred is something that we could not have dreamed of happening from just our second crop of foals. We cannot wait to see her at the races in 2018.